I'm a freelance writer and journalist in Mexico City. I cover topics related to human rights, migration, politics, gender and cities.
My work has appeared in N+1, Vice, The Nation, The New Republic, Columbia Journalism Review, The Baffler, Foreign Policy, Al Jazeera, Deutsche Welle and The Guardian, among other outlets. I've had stories featured on Longreads and the Nieman Lab Daily Digest. In 2019, I received a scholarship for Hostile Environment and First Aid Training (HEFAT) from the 2Lives Steven Joel Sotloff Memorial Foundation. I'm also a member of Frontline Freelance Mexico.
For assignments, tips or critiques, or just to say hi, contact me at madeleine dot wattenbarger at gmail dot com.
Featured Publications
Eater: Mexico City's Public Markets Are In Danger Of Disappearing. Some markets have benefited from the city's newfound status as an international culinary hotspot. But what would it take for them to be truly accessible to residents of Mexico City?
The Guardian: US-Mexico border factories stay open despite COVID risk. A few days after the state ordered the Autolite factory to stop work, Ayala got a text message inviting him back to work, on condition he did not drive there: the factory parking lot had to stay empty. "They offered us a bonus of 250 pesos and a vacation day," he said.
Columbia Journalism Review: The front line of Mexican media is DIY community radio. We go through the open first floor of a house, across a courtyard dotted with cats and chickens, and climb stairs scattered with beer caps to a cinder block room. Outside is the radio transmitter, which Perez and fellow radio host Hugo Franco Guzman now fix themselves whenever there's an issue. Before, it was always Samir: he was small and slender and scaled the roof like it was nothing.
Foreign Policy: We're Doing What The Government Won't Do. Bones seemed to rise from all corners of the property. The carelessness with which the government had treated the remains added to the brutality with which criminals had killed their searchers' families.
Zora: Meet the Women Smashing Mexico's Male-Dominated DJ Scene. To dance in the street is to assert the right to the city. For Mendoza and the Musas, taking a place as sonideras — playing music, not just dancing on display — is asserting that they have just as much right to that space as men do.
Strangers Guide: Defending water, defending life. The tent's walls flap as cars speed by. In large hand lettering, the street-facing wall reads: "PLANTÓN EN DEFENSA DEL AGUA"—"Sit-in in defense of water." It's April, and the sit-in is in its seventh month.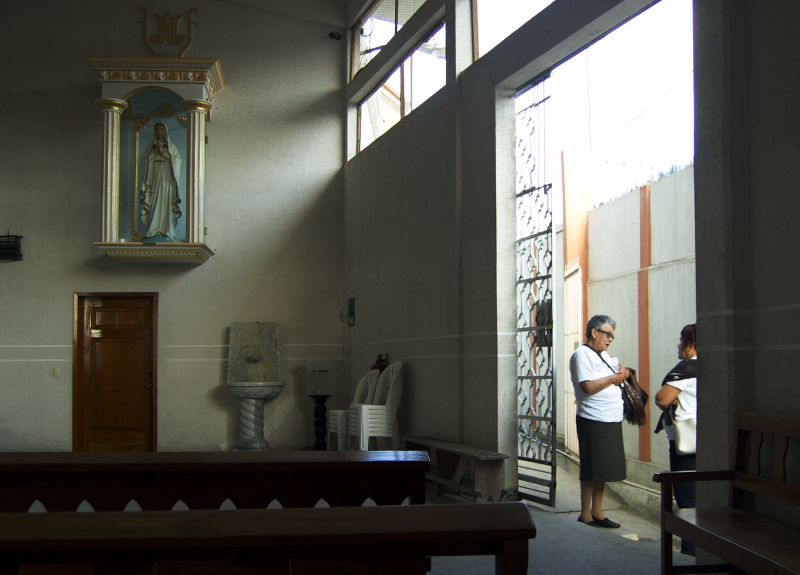 Sojourners: The women organizing the Mexican church to take action for the disappeared. The procession filed back out into the streets of Papantla, led by the bishop in his emerald-green vestments. "Unete, únete, que tu hijo puede ser," they chanted — join in, join in, it could be your child.
The Nation: Caravan Migrants Carry Hopes Northward As Their Journeys Resume. Alfredo and his nephew toss playful insults back and forth, collapsing onto each other in laughter, while Carlos hovers nearby, every so often joining their jabs with a grin. A few men with smartphones show each other pictures and play reggaetón hits on YouTube. Alfredo flashes a laminated card distributed by an aid organization, advising migrants of their rights while in Mexico, jokingly calling it his "all-access pass."
You can find more of my published writing here.